Aliilamo haslak - Welcome
---
Koasati is a living language spoken by members of the Coushatta Tribe of Louisiana. Koasati has been spoken in the south for many centuries, but tribal members have only recently begun writing the language. The Koasati Digital Dictionary is our attempt to document areas of traditional knowledge: words for plants and animals, family terms, numbers, and ways of living. It ultimately seeks to pass that knowledge on to our children and grandchildren. Aliilamo (Thank you) for visiting this site and learning about our language. As you study the words, we hope you gain an appreciation of our history, our customs, and our relationship to the world around us.
About the Dictionary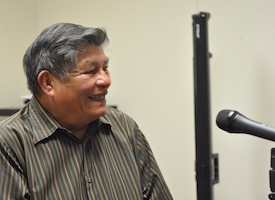 The Coushatta Tribe of Louisana Koasati Digital Dictionary is a collaborative effort between the Coushatta Tribe of Lousiana, McNeese State University, and the College of William and Mary. It was sponsored in part by a grant from a National Science Foundation Documenting Endangered Languages grant.
Special Thanks
We are grateful to the Coushatta Tribal Council for their continued support and guidance.
Language Committee
Ronnie Abbey, Iwana Barnard, Doris Battise, Margie Battise, Ed Celestine, Darlene Dunnehoo, Nina Fuselier, Claudine Hasting, Jaime Hill, Dakota John, Jonas John, Marian John, Margaret John, Barbara Langley, Bertney Langley, Loris Langley, Jeanette Celestine Langley, Regina "Tee" LaBuff, Paula Manuel, Kathy Peoples, Clifford Poncho, Jamison Poncho, Lorenda Poncho, Geraldine Reed, Adrian Sylestine, Delson "Dan" Sylestine, Janice Sylestine, Terry Sylestine, Elizabeth Marie Thompson, Leland Thompson, Carol Whitworth, Crystal Williams, Heather Williams, Loretta Williams, Norman Williams, Rodney Williams
under the guidance of
Bertney Langley and Linda Langley
edited by
Jack B. Martin
with assistance from
Stephanie Hasselbacher Berryhill, Tim Churchill, Thomas Diaz, Angela Hales, Christopher Hart-Moynihan, Luke Hart-Moynihan, Joe Kessler, Colton O'Connor, Eric Press, Rachael Tatman, Dan Villarreal
Website by Poirier Technologies LLC